The Leader is The State University of New York at Fredonia's only student-run news publication. With a newspaper distributed every Wednesday, we pride ourselves on covering important, hard-hitting local campus and town news. Our staff works hard every week of the semester to bring you high quality, relevant news. We always welcome new writers, photographers, illustrators, editors and more.
If you're interested in joining or staff, or have any questions or concerns, please email us at leader [at] fredonia [dot] edu or stopping by our offices at room S206 in the Williams Center.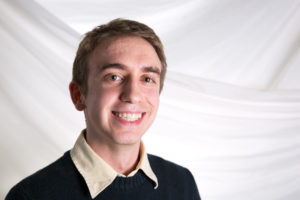 Colin Perry, Editor in Chief
Colin Perry is a senior dual English and journalism major from nearby Cassadaga, New York. He enjoys reading, travelling, Bruce Springsteen and Street Meat. Among other honors, he once finished second place in an eighth grade spelling bee.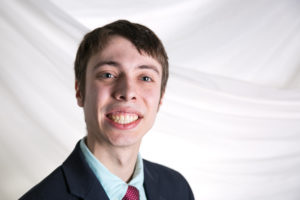 Connor Hoffman, Managing Editor
Connor Hoffman is a senior dual political science and journalism major from Buffalo, New York. He enjoys politics, tacos and reading.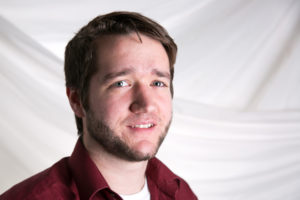 Jordan Patterson, News Editor
Jordan Patterson is a senior journalism major with a minor in criminal justice. He has written for the local newspaper, The Dunkirk Observer, and works a part-time job on top of going to Fredonia. He enjoys playing basketball and PS4. He believes Batman and aliens are real. Also, he is a brainwashed Pittsburgh Steelers fan from birth.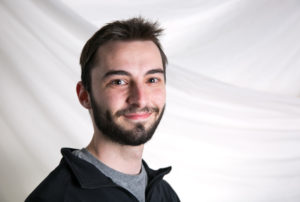 Dan Orzechowski, Assistant News Editor
Dan Orzechowski is a junior double majoring in political science and journalism. He can recite every line from Napoleon Dynamite and believes pineapple is acceptable on pizza.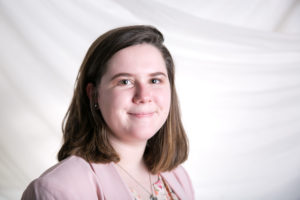 Amber Mattice, Life & Arts Editor
Amber Mattice is a sophomore journalism major with a minor in art history. She drinks coffee more than frequently, is obsessed with Shakespeare, and spends an obscene amount of time reading poetry and scrolling through Pinterest. Her favorite story to tell is how she once got lost in the subway in Japan and had to mime her way back to her hotel.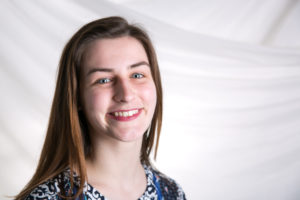 Claire O'Reilly, Assistant Life & Arts Editor
Claire O'Reilly is a junior journalism major hailing from Rochester, New York. Her hobbies include spending too much time on Pinterest, eating too many chicken wings and binge-watching "Shameless." You can find her on campus with her nose in a book or eating a nacho lunchable (because we all know nacho is the best).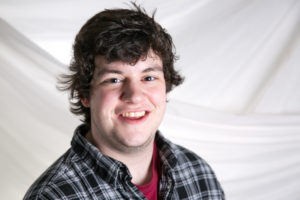 Curtis Henry, Sports Editor
Curtis Henry is a senior at Fredonia and is majoring in journalism with a minor in English. His hobbies and obsessions include participating in demolition derbies, playing fantasy football and writing. He describes himself as a "journalist, a promoter of chaos, and an advocate for dank memes." You can find him either in The Leader's office or on a bar stool at Lil' Magill's.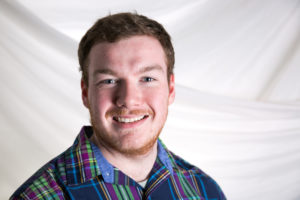 Travis LeFevre, Lampoon Editor
Travis LeFevre is a sophomore majoring in journalism and criminal justice. In his free time, he enjoys video games, writing the funnies and shortening his life expectancy by drinking energy drinks.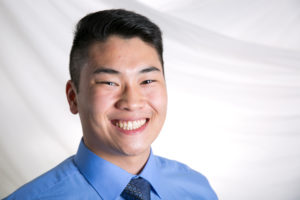 Sam McCagg, Web Editor
Sam McCagg is a senior computer science major with a concentration in software development and a minor in web programming. He enjoys playing the guitar, weightlifting, soccer, field hockey, tennis, coding challenges and a tipsy night out with friends.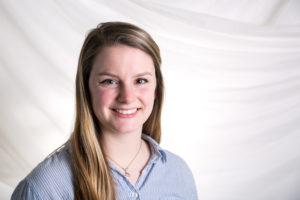 Maddy Carroll, Design Editor
Maddy Carroll is a junior media management major with a minor in visual arts and new media from Rochester, New York. In her free time, she enjoys going to concerts, cooking and tearing down any professionally made advertisements that use Comic Sans.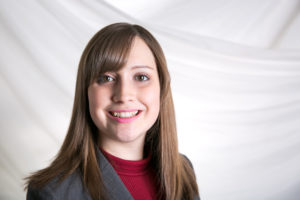 Rebecca Masiker, Art Director
Rebecca Masiker is a senior BFA in graphic design major and art history minor. Rebecca is a graphic designer at Antefact Graphic Design, a freelancer, and completed an internship at the office of Creative Design at Fredonia. She enjoys researching art history, spending time with her two dogs, Hunter and Sir Reginald III: Archduke of Cuteness (aka Reggie), and eating pasta.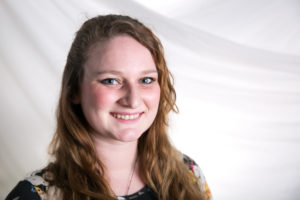 Marissa Doing, Assistant Art Director
Marissa Doing is a junior BFA graphic design major. Outside of The Leader, she enjoys singing, acting, spending time with friends and family, and her puppy Hercules.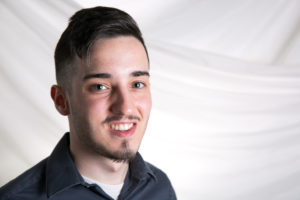 Corey Maher, Photo Editor
Corey Maher is a senior majoring in media management, with a minor in leadership studies. Commonly referred to as "Photo Guy," Corey has been an avid photographer ever since he received his first camera as a birthday present in high school. He also enjoys playing guitar, being overly critical of popular music and befriending complete strangers.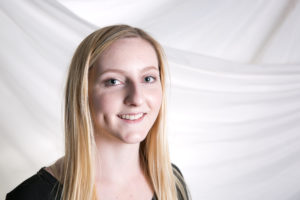 Kristen O'Connor, Copy Editor
Kristen O'Connor is a senior English, media management and public relations triple major. When she's not fixating on improper semicolon use, she enjoys indulging in the luxuries of life, including traveling to beautiful places, reading contemporary literature, devouring macaroni and cheese and petting cats.
Ben Anderson, Assistant Copy Editor
Ben Anderson is a junior double major in English adolescence education and philosophy. In addition to working with The Leader, Ben works with SUNY Fredonia Esports, as well as serves as Treasurer on Noteworthy.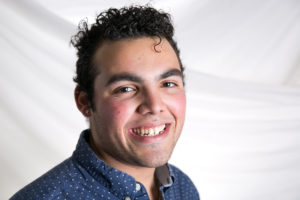 Kevin Gleason, Business Manager
Kevin Gleason is a senior majoring in marketing and theatre arts. Kevin enjoys choreographing dances and hanging out with his new friends here. Kevin is excited to go work at Disney World!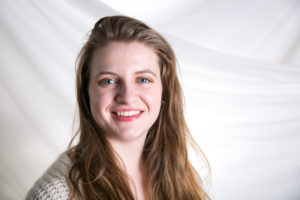 Lauren Finke, Assistant Business Manager
Lauren Finke is a music industry and business administration – marketing dual major. She loves to create, read and spend time with her cats when she is not out exploring the wilderness with her friends. She is also involved with two a capella groups on campus and likes to discover new music of all types.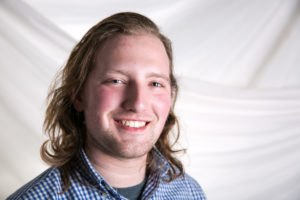 Matthew Donnelly, Advertising Sales Manager
Matthew Donnelly is a senior dual major in business finance and public relations. He plays in a band with his two brothers around the Western New York area, called The Donnellys Band. This summer, he balanced a 56 hour work week with an online class and playing with his band as much as possible.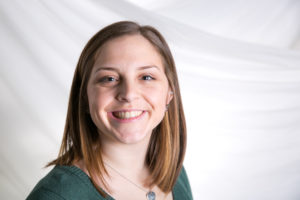 Brooke Atkins, Social Media Manager
Brooke Atkins is a senior public relations major with two minors in sports administration and athletic coaching. In her free time, she enjoys cuddling with her dog Cody, watching Netflix and taking long walks to the fridge.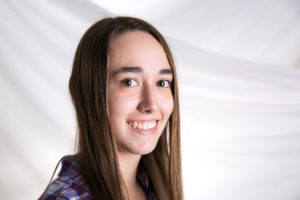 Avril King, Social Media Assistant
Avril King is a sophomore with a major in journalism. In her spare time, she can be found reading, playing tennis, or Google searching images of places around the world that she would like to visit one day. Although quiet in disposition, Avril enjoys making her voice heard through her contributions to The Leader.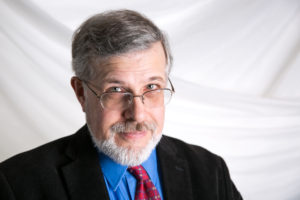 Elmer Ploetz, Adviser
Elmer Ploetz teaches journalism at SUNY Fredonia. He previously spent 27 years in newspapers, the last 23 at The Buffalo News. He has also created video documentaries, radio shows and websites. He won his eighth grade spelling bee, but never got the dictionary that was to go to the winner.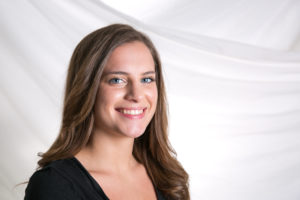 Rachel Barbato, Staff Illustrator
Rachel Barbato is a senior B.F.A. graphic design major. Outside of The Leader she interns for the Marketing and Communications office here at Fredonia. Rachel loves traveling and hopes to be able to visit more of Europe after graduation.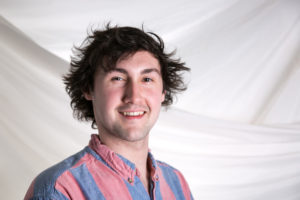 Patrick Bennett, Staff Lampoonist
Patrick Bennett has a profound respect for film, music and scented candles. While at Fredonia, the writer majors in speech-language pathology. Some have said he is reminiscent of Lanky Kong from Donkey Kong 64. This is something he can't help but agree with, despite lacking the ability to do a walking handstand.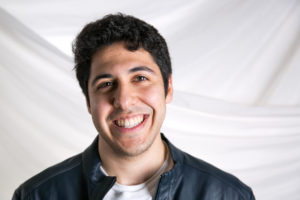 Andrew Camera, Staff Photographer
Andrew Camera is a senior music industry student with a minor in music applied studies. He comes to Fredonia from Long Island, New York and enjoys making music and video editing in spare time. He is currently working on a graphic novel trailer for a project that will make its way to San Diego Comic-Con this year.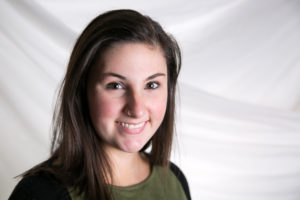 Kara Cekuta, Staff Illustrator
Kara Cekuta is a junior B.A. graphic design major with a minor in communication. She is also a member of Sigma Kappa Sorority and AIGA. In her free time, Kara can be found spending time outside, listening to Taylor Swift or playing with dogs.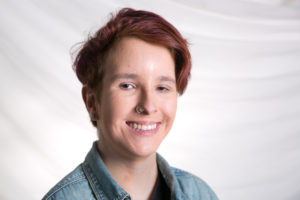 Bethany Clancy, Staff Writer
Bethany Clancy is a junior with a journalism major and a women's and gender studies minor. She enjoys going to concerts,  exploring different cities in Canada and petting dogs. Bethany is known for her excessive maroon-colored clothing and extensive knowledge of The Jonas Brothers.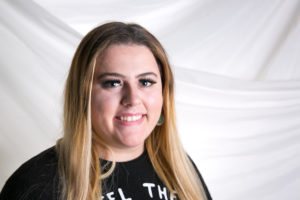 Camry Dean, Staff Writer
Camry Dean is a senior English major minoring in communication. When she isn't procrastinating life by watching "The Office" for the ninth time through, you can find her listening to angry girl music of the indie-rock persuasion, subtly bragging about her European adventures or eating Street Meat outside of Old Main around 2 a.m.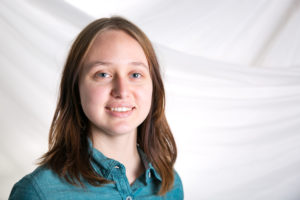 Angelina Dohre, Staff Writer
Angelina Dohre is a freshman journalism major from Fredonia, New York. When she isn't writing articles for The Leader, she can be found playing bass guitar and keys on Rock Band. When she isn't playing Rock Band, she can be found eating unhealthy food and hating herself for not going to the gym. She hopes to one day actually go to the gym.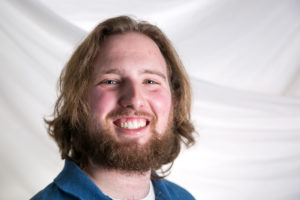 Michael Donnelly, Sales Representative
Michael Donnelly is a senior marketing major with a web programming minor. He is strongly into playing guitar and performing. Michael loves attending concerts and is happy to be a part of the Leader sales team!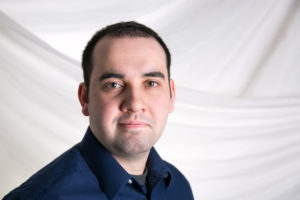 Edward Gallivan, Staff Illustrator
Edward Gallivan is a senior BFA animation and illustration major. He first got involved with drawing for The Leader back in 2014 and has been hooked doing political cartoons ever since. While not drawing or animating, he can be found walking around campus hunting down Pokémon, or down at PowerNine, blowing all his money on Yu-Gi-Oh cards.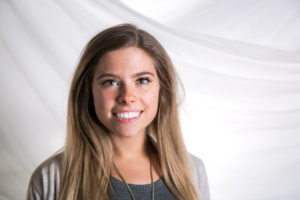 Ciara Howley, Sales Representative
Ciara Howley is a junior marketing and public relations dual major. Ciara enjoys nightlife in downtown Fredonia and spending time with her bunny.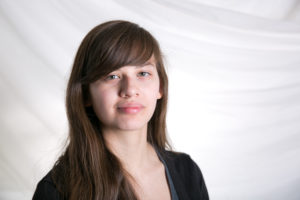 Leslie Martinez-Garcia, Staff Illustrator
Leslie Martinez-Garcia is a senior BFA animation and illustration major. She is also part of the Animation and Illustration Club as treasurer and the Astronomy Club as secretary. Leslie loves creating art and also loves watching Netflix in her PJs.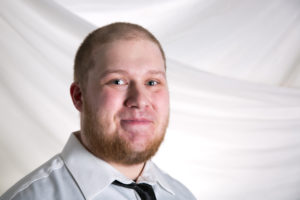 Mitchell Paddy, Staff Illustrator
Mitchell Paddy is a senior (going on to be super senior, shooting for that Master's) majoring in graphic design. In his downtime, Mitch loves to do side art projects or distract himself from that and instead play video games. Also, Mitchell is the most handsome man in the world, according to his mom.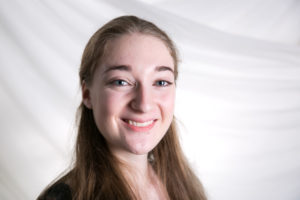 Emma Patterson, Staff Lampoonist
Emma Patterson is a junior with a major in English and a minor in creative writing. She tries to see the beauty in all things, but often fails when it comes to spiders and mayonnaise. She loves movies, books, surprise parties, and almost every food, besides the aforementioned mayonnaise. She enjoys almost every genre of music and often sings along loudly, much to her roommate's embarrassment.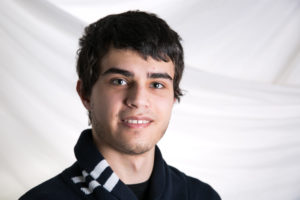 Daniel Salazar, Staff Illustrator
Daniel Salazar is a sophomore BA animation and illustration major. While Dan is usually sleeping at home, he can often be found sleeping at the radio station. He is currently in search of the Squirrel Dimension, which he hopes to find by following squirrels around.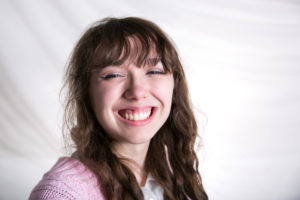 Alissa Salem, Staff Illustrator
Alissa Salem is a sophomore animation and illustration major. This is her first year drawing for The Leader, and she is also involved in the Animation and Illustration Club on campus as the club's social chair, as well as Fredonia Radio Systems where she hosts her own show. Alissa loves cute things, and hopes that her work can brighten someone's day.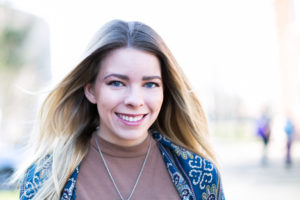 Chiara Sapia, Sales Representative
Chiara Sapia is a junior business marketing major from Rochester, New York. She enjoys spending her free time eating cheese fries, watching ridiculous Netflix series, traveling and reading.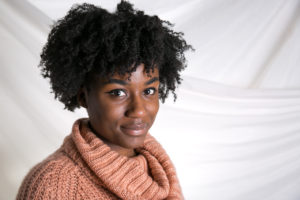 Sheneca Sharpe, Staff Writer
Sheneca Sharpe is a sophomore majoring in computer information systems with a minor in journalism. Her hobbies include reading, writing, web design and shopping in the stationery section of the bookstore.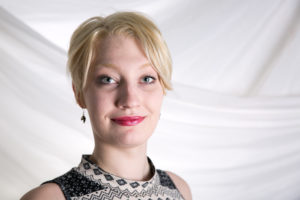 Madison Spear, Staff Illustrator
Madison Spear is a junior BA animation and illustration major. She's from the Adirondacks, where she hikes and collects minerals. She also loves to travel internationally, specifically to Thailand, Malaysia, Singapore, Australia and most of Asia. On her downtime, she enjoys the outdoors and finding historical sites around the area.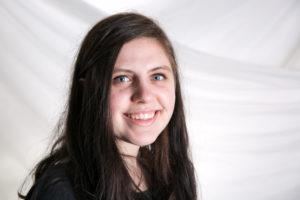 Jaclyn Spiezia, Staff Lampoonist
Jaclyn Spiezia is a junior dual education major with a concentration in English and a creative writing minor. She is from New York City and enjoys traveling. She loves exploring nature, watching films and is ready for new adventures.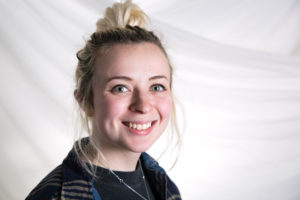 Molly VanDenberg, Staff Writer
Molly VandenBerg is a senior journalism major with a minor in sociology from Rochester, New York. She enjoys watching Netflix documentaries, reading, food, listening to music and going to concerts. If you can't find her over the weekend, she's probably sitting on a bar stool at BJ's.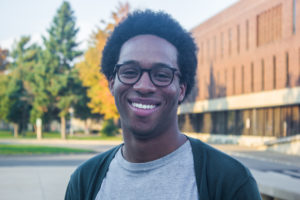 Leron Wellington, Staff Writer
Leron Wellington is a senior double majoring in theatre arts and journalism. His hobbies include watching movies and theatre, reading, listening to music and hanging out with friends.